DRAMA; 1hr 45min
STARRING: Vicky Krieps, Tim Roth, Mia Wasikowska, Anders Danielsen Lie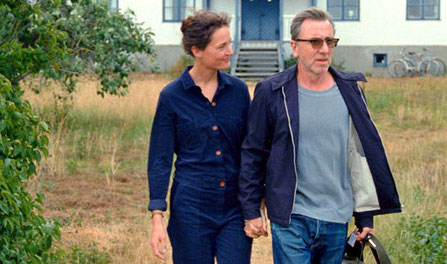 Write on: Krieps and Roth
With its strong romantic bones the Swedish island of Fårö seems untouched by time, its light and warmth worshipfully shot by writer-director Mia Hansen-Løve (The Father of My Children) and cinematographer Denis Lenoir. Film-maker Ingmar Bergman loved the place, and although he died there in 2007, the shadow of his spirit still looms long in his houses, movie locations and screening room.
But paradise is a relative state of mind. For husband and wife Tony and Chris Sanders (a pared-back Roth and Krieps), who travel to Fårö to complete their own screenplays, the playing field is bumpy. Tony laps up the atmos while Chris is intimidated by its dreamy perfection and conflicted about Bergman the person, with his nine kids by six women who raised them while their father was off being a maestro.
The two set to work anyway, Tony in the artfully minimalist house where they are staying, in which part of Bergman's Scenes from a Marriage was filmed, and Chris in a nearby old mill (because naturally there is one). Right away there are cracks in the whitewash: while struggling to write, Chris discovers disturbing sketches of naked women in Tony's notebook that are at stunning variance with his apparent mildness. She also misses their young daughter. Chris, you suspect, is a pain, and snooping in her partner's notes is a gateway to trouble. In her defence Tony is a hard act to follow, with his adoring cinema audience and the ease of a success he isn't keen to share when his wife seeks his advice on a script that becomes a meta-movie.
In Chris's story, film-maker Amy (Wasikowska) is reunited on Fårö with her ex love Joseph (Danielsen Lie). The issues they confront — Amy's neediness, Joseph's emotional remove — are neatly tongued-and-grooved to the Sanders' own situation. Events take a head-scratching turn, however, after barriers between the actual and the possible inexplicably dissolve into an ambiguous ending that somehow leaves everybody where they need to be. And if you're thinking that "ambiguous" is review-speak for What the Hell Just Happened, you'd be 100 per cent right.