DRAMA; 2hr 11min (French with subtitles)
STARRING: Virginie Efira, Charlotte Rampling, Daphne Patakia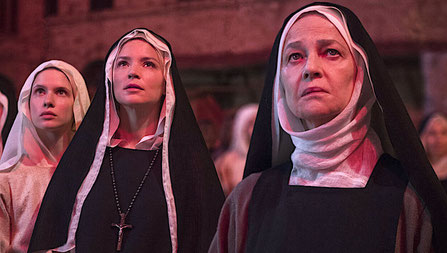 Sisters act: from left, Patakia, Efira and Rampling
A 17th-century Tuscan convent would hardly have been a fun house in reality, but let director Paul Verhoeven loose on one and the joint is jumping. Working in his inimitable style, Verhoeven (Showgirls, Elle) and his co-screenwriter David Birke take a lusty bite out of Judith C. Brown's invitingly titled 1986 nonfiction book Immodest Acts: The Life of a Lesbian Nun in Renaissance Italy. Of course they do!
If nothing else, the sister in the spotlight (Efira as Benedetta Carlini) is a natural multitasker, alternating unhinged visions of a rock-starry Jesus (Jonathan Couzinié) with an unchaste attraction to sexy novitiate Bartolomea (Patakia). When Benedetta apparently receives the stigmata while sleeping, her credulous fellow nuns are in awe. Not so their sceptical abbess (Rampling), a woman neither easily shaken nor stirred.
Moving on up, the sainted Benedetta becomes the new abbess. The perks of the post include a double bed in which, until they get caught, she and Bartolomea enjoy blissful sex, disporting themselves with a wooden statuette of Mary that Bartolomea has thoughtfully whittled into a dildo. Never a dull moment for the Sisters of Verhoeven, photographed with the misty reverence of a major work by cinematographer Jeanne Lapoirie! As if this menu of depravity, disgrace and damnation weren't sufficiently juicy, its ante is further upped by a deadly plague. You could write the mayhem off as twisted fervour run amok but Benedetta's splashy downfall sure beats a dusty sermon.