MUSICAL DRAMA; 2hr 36min
STARRING: Ansel Elgort, Rachel Zegler, Ariana DeBose, Rita Moreno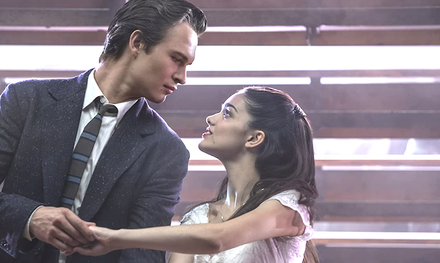 Say it loud and there's music playing: Elgort and Zegler
The pedigree on this is something else: directed by Steven Spielberg from Tony (Angels in America) Kushner's screenplay, with music and lyrics by Leonard Bernstein and Stephen Sondheim, West Side Story 2021 is adapted from the 1957 stage play inspired by Romeo and Juliet. That's one top-shelf CV even if you haven't already been bowled over by the original 1961 movie adaptation starring Natalie Wood, Richard Beymer and, once again, Ms Moreno.
Standing in for Shakespeare's warring Montague and Capulet families are teenage gangs the Sharks, who are Puerto Rican, and the Jets, who are white. The boys are butting heads over supremacy of their tumbledown New York Upper West Side neighbourhood, a vastly different look in the 1950s from today's upscale Manhattan streets.
Against these jagged edges, Tony (Baby Driver's Elgort) and Maria (Zegler, beating out 30,000 applicants for her film debut) fall fast and hard. This is nowhere near ideal: he is a jailbird ex-Jet and the BF of their leader, Riff (Mike Faist), she is the sister of head Shark Bernardo (David Alvarez) and promised in marriage to his buddy Chino (Josh Andrés Rivera), who fails to thrill her. And with Riff spoiling for a Sharks–Jets "rumble," her timing couldn't be worse, either.
The two dewily photogenic leads have serious dancing shoes to deal with, ditto DeBose as Bernado's hot-tamale girlfriend, Anita (played in 1961 by Moreno, who takes a less athletic but still memorable stance this time as drugstore owner Valentina). But like the great bones of classic art, echoes of the past enrich a fresh take on the present. Spielberg's WSS is a simultaneous hat-tip to what was and its own gorgeous creation — vital and balletic, this tragedy of cross purposes rings as true now as it did when Shakespeare went to work on it 400 years ago.