COMIC DRAMA; 2hr 13min
STARRING: Alana Haim, Cooper Hoffman, Sean Penn, Bradley Cooper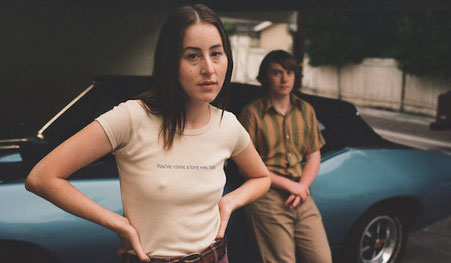 Nice ride: Haim and Hoffman
Writer-director Paul Thomas Anderson (Boogie Nights, Magnolia) is back on his balmy stamping ground of California's San Fernando Valley, gliding into the nascent 1973 romance of 15-year-old mover-shaker Gary Valentine (first-timer Hoffman, son of the late actor Philip Seymour Hoffman) and 25-year-old photographer's assistant Alana Kane (a chilled Haim, fellow film newbie and the vocalist in her sisterly rock band).
Love-struck Gary vows to marry Alana after one meeting, even though she insists she is too old for him and urges him to stop breathing — audibly, at least. Not one to be deterred, Gary has further set his sights on an acting career, with all its attendant humiliations. Although sturdily resilient, he can't seem to catch a break: when he and Alana team up to sell fat-burning water beds, it seems he is finding his feet. But commerce can be a cruel mistress — a petrol shortage is crippling the country and a big-deal customer, hairdresser turned producer Jon Peters (a barely hinged Cooper; Penn also devours his moment as martini-brined movie star Jack Holden), is the customer from hell.
A rattled Alana has had enough and volunteers for a local politico (film-maker Benny Safdie). But everyone in the cinema knows by now that this is a futile bid to play it straight, and that as she and Gary reunite at his new pinball arcade — seriously, the boy never stops — they have to understand at last that with a click factor this off-the-charts, how can they not end up together?
Meshing these loopy threads, Anderson makes the epic look effortless, his rangy narrative cruising and weaving with meticulous ease. Like the pizza that never existed — except as a chain of record stores, that is — his fruity slice of the past is the blast baby boomers can only wish they'd had.