LIVE-ACTION ANIMATION; 1hr 47min
STARRING: Patrick Dempsey, Amy Adams, Susan Sarandon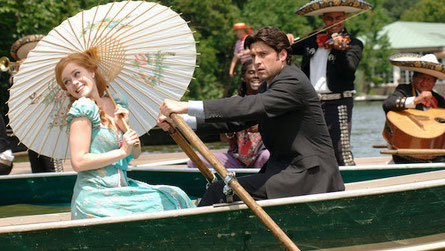 Swept away: Adams and Dempsey
In the magic kingdom of Andalasia, fairytale folklore rules the prettily animated day. The truest fairytales have a dark underbelly, of course — and so it is that determined to prevent an impulsive marriage between the impossibly dashing Prince Edward (James Marsden) and dainty maiden Giselle (Adams), Andalasia's evil Queen Narissa (Sarandon) banishes the blithesome wood nymph to a place where "there are no Happily Ever Afters": the cynical maelstrom of today's Manhattan.
Heaven help Giselle, now transmuted into photogenic human form! And spare a thought for stressed divorce lawyer and single dad (to the roundly adorable Rachel Covey) Robert (McDempsey), on whom she literally lands! Meanwhile, Prince Edward and the Queen's obliging henchman Nathaniel (Timothy Spall) have also landed on the scene, along with a hyperactive chipmunk.
The cuter the concept, the more challenging it is to sustain. Enchanted aces every family friendly angle, marrying musical extravagance with hilarity, skulduggery and romance, as Giselle evolves into a flesh and blood woman and the sweetest of dreams really do come true.