SCI-FI; 2hr 35min
STARRING: Timothée Chalamet, Rebecca Ferguson, Oscar Isaac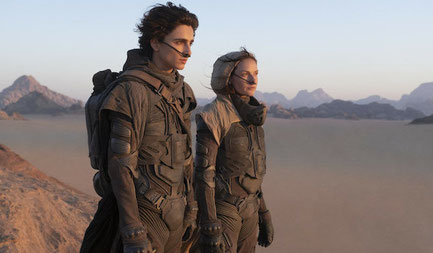 On the nose: Chalamet and Ferguson
To wade into the Dune mythology not knowing a whole lot about Frank Herbert's 1965 novel — and with no agenda barring Incendies director Denis Villeneuve's badass track record and the minor mythology of T. Chalamet's runway-ready hair — is to bear witness to a fractured and bewildering future world. The machinations are a mind boggle but one thing is certain: every big-ticket shot, rolled out with determined intensity in this first instalment of Villeneuve's planned two-part tale, means mega business.
The commodity up for grabs is an invaluable, super-enhancing "spice" that, among other enviable things, makes interstellar travel a reality. Its home planet of Arrakis is a desert hellhole, but that's not about to stop the covetous Duke Leto of House Atreides (Isaac), ruler of the planet Caladan, or his paramour, Lady Jessica (Ferguson), and their son and heir, Paul (Chalamet). The plan, orchestrated by their double-crossing Emperor, is ostensibly for the Duke and his tremendously armoured troops to unseat the ruling House Harkonnen and grab Arrakis and its spice haul for themselves. Unfortunately for the Duke, the Emperor doesn't plan to stop there, as any corporate raider could have told him.
As if his present situation weren't awful enough, the gloom-sunk Paul is tormented by images of the future. Paul's earnest parents and their trusty personnel (Josh Brolin and Jason Mamoa do their manly utmost) are no more cheerful than he is, which I couldn't have cared less about, so glazed was I by the trippy visuals that dwarf every stern performance. There may be nothing to count on in the far distant, fancy-pants future besides treachery, greed, more treachery and humungous killer sand worms. But doomsday writ large can still be as good a place as any to kill some speculative time.