DRAMA; 1hr 59min
STARRING: Justin Chon, Alicia Vikander, Mark O'Brien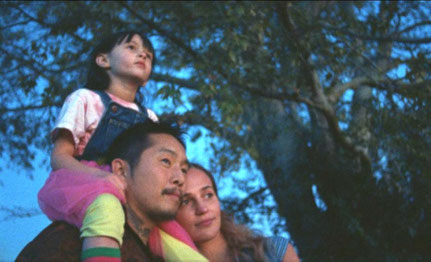 Feeling blue: from left, Kowalske, Chon and Vikander
Tattoo artist Antonio LeBlanc (writer-director Chon) lives with his pregnant wife, Kathy (Vikander), a nurse, and stepdaughter Jessie (Sydney Kowalske) in New Orleans, in whose outwardly tranquil bayous alligators are known to lurk. The city is an unfortunately apt fit for Antonio, who is Korean-born and was never naturalised by his adoptive American parents, and for whom the displacement of surfaces is an ongoing threat, despite having lived in the US for 30-plus years.
That menace materialises after a blowup with Kathy in a supermarket sees Antonio slapped with a deportation order to South Korea if he loses a case he can't afford to defend. "I ain't goin' nowhere," he reassures Jessie with more bravado than conviction, but with a criminal record and no money for a lawyer, his chances of prevailing are painfully slim. Factor in Jessie's resentful biological father, Ace (O'Brien), who happens to be the police officer partially responsible for Antonio's marching orders and who has every reason to want his rival gone, along with the stunt Antonio pulls to afford an attorney (Vondie Curtis-Hall), and we're talking last-chance café.
It's not all doom and gloom on the bayou: Chon leaves ample, wholehearted space for the softer moments that texturise a life. Despite the private burden of a brutalising past, Antonio is considerate and kind with a generous heart. He loves his feisty wife and her scrappy little girl and he wants nothing more than to hold onto what he has earned. But desperation can breed self-destructive choices. Capped by photographs of actual adoptees confronted with deportation, Chong's heavy reckoning also leaves ample space for despair.