ADVENTURE; 1hr 34min
STARRING: Dwayne Johnson, AnnaSophia Robb, Alexander Ludwig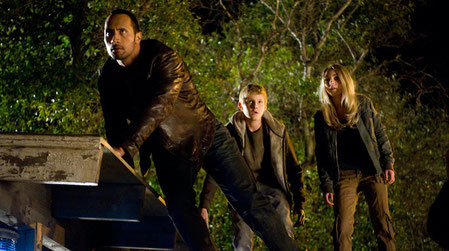 Mountain man: from left, Johnson, Ludwig and Robb
If you were an extraterrestrial on the loose in Las Vegas in a blond and clean-skinned teenage body, you might count yourself lucky to hook up with Dwayne ("The Rock") Johnson, especially with the US government hot on your nonhuman tail. That's what happens to Sara and Seth (Robb and Ludwig) after their flying saucer crash-lands in the Nevada Desert and they fetch up in the back seat of Jack Bruno's taxi.
Bruno (Johnson) is a crabby lone wolf with a felonious past and a nothing-much life. But that's just a memory when the two teenians hit town. Quick as a flash, Jack finds himself dodging great balls of fire in a breakneck chase to reach the twosome's captured ship at the secret US facility within Witch Mountain, thereby eventually preventing — surprise! — an invasion of Earth.
Zip-zap! This nippy dusting off of the 1975 model Escape to Witch Mountain from director Andy Frickman (The Game Plan) doesn't reinvent any spaceship wheels. But its otherworldly fallout is never less than Rock-solid.