FAMILY; 1hr 47min
STARRING: Eddie Murphy, Yara Shahidi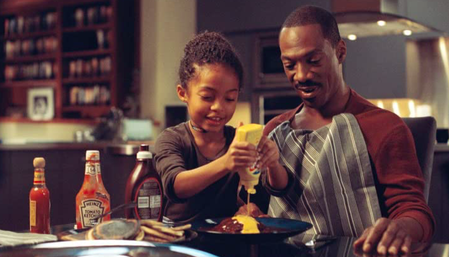 Don't try this at home: Shahidi and Murphy
Parents everywhere, exhale. The storyline of (yet another) family-friendly Eddie Murphy comedy Imagine That pans out more snappily than it reads, its playful observations happily keyed into the not-so-different ways of kids and business. Then there's Murphy, shining through as newly single father and financial advisor Evan Danielson. Evan is a distant parent, all wrapped up in charts and stats. To compensate, his solemn daughter, Olivia (Shahidi), retreats to her imaginary world via her "Goo-Gaa" security blanket.
Incredibly, the characters in this fantasyland also happen to be crack financial shots whose market predictions — crazily phrased in seven-year-old speak — are spot-on. When Evan starts taking their advice, and bonding with his little girl along the way, his career goes gangbusters. But can he wheel and deal without the Goo-Gaa?
Murphy sells this cuckoo concept with a performance that zings with truth even at the battiest end of its spectrum. Watching him make the madness look easy is a fine, fun reminder of the star performer he's so capable of being.