ADVENTURE COMEDY; 1hr 41min
STARRING: Emma Roberts, Jake T. Austin, Don Cheadle, Lisa Kudrow, Kevin Dillon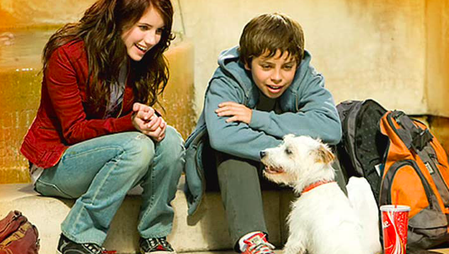 Puppy love: Roberts and Austin
Andi (Roberts) and her younger brother, Bruce (Austin), have burned through foster parents and are stuck with two shockers (Dillon and Kudrow, tart as a swig of vinegar). But that's nothing compared to keeping pace with their ravenous Jack Russell terrier, Friday, who, despite being the canniest hound in coo-ee, is canine non grata everywhere.
Then Friday and the kids stumble into an abandoned hotel, which is already home to a Boston Terrier and a Bullmastif. And when Friday and his new buds are joined by a trio from the local pet store, it's time for Bruce to put his brainiac engineering skills to work in what becomes a full-scale stray rescue centre.
Could this bouncy take on Lois Duncan's 1971 children's book be any doggone cuter? Not one iota — and like all utopian visions, its poochy palais isn't likely to last. When it doesn't and the fur hits the fan, it's up to Cheadle, last seen brokering detonators in Traitor, to save the day as social worker Bernie. My how that man gets around.