ANIMATION; 1hr 34min
VOICES BY: Freddie Highmore, Nicolas Cage, Donald Sutherland, Nathan Lane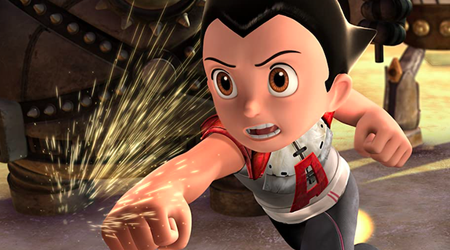 It's CG-animated with a peppy title, but Astro Boy is no lightweight trip. Based on the manga of Osamu Tezuka, it's a dark emotional reckoning as broken-hearted scientist Dr Tenma (voiced by Cage) fashions a compensatory robot in the likeness of his dead son (Highmore), only to realise his child can never be replaced.
Rejected by the man he perceives as his father, Astro Boy (Highmore again) jets off over floating Metro City. Propelled by flames that shoot from his shoes, he ends up on the robot scrapheap that Earth has become. He's a freak of science with the sensibility of a little boy: Pinnochio by way of A.I. On Earth, Astro is adopted by a renegade tribe of kids and their Fagin-style protector (Lane). And while all that's going on, Metro City's President Stone (Sutherland) has his own unscrupulous reason for wanting Astro deactivated.
The look is clean and futuristic and the crash-bang quotient is on overdrive. But at its tender-hearted core, this is a story of a boy who just wants to fit in and realise his destiny in a baffling and way-out world.