ANIMATION; 1hr 40min
VOICES BY: Frankie Jonas, Tina Fey, Noah Cyrus, Liam Neeson, Cate Blanchett, Matt Damon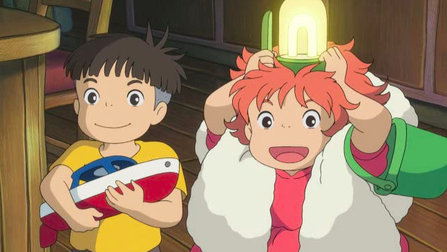 Seachange: Sôsuke and Ponyo
The animation of Hayao Miyazaki (Swept Away, Howl's Moving Castle) is as liquidly pretty as any enchanted kingdom and the mind behind it is out of this world. Dubbed into English for this release, the mad adventures of Ponyo the talking goldfish turned little girl (voiced by Cyrus) have been taken from Hans Christian Andersen's The Little Mermaid. But their briny bite and shiny spirit are Miyazaki's alone.
For a goldfish discovering her human land legs, every moment is magical and when the enraptured Ponyo escapes her undersea father and mother (Neeson and Blanchett) to live with her newfound favourite, five-year-old Sôsuke (Jonas) and his mother, Lisa (Fey), in their clifftop house, even the simplest discoveries are something else.
Ponyo is a whirlwind on springs, like any excited little girl discovering ham and noodles for the first time. But she is also bound to the sea and the way Miyazaki draws it, as sinuous as molten gold, the changeable ocean is a creature in itself.