ANIMATION; 1hr 29min
VOICES BY: Elijah Wood, John C. Reilly, Jennifer Connelly, Christopher Plummer, Crispin Glover, Fred Tatasciore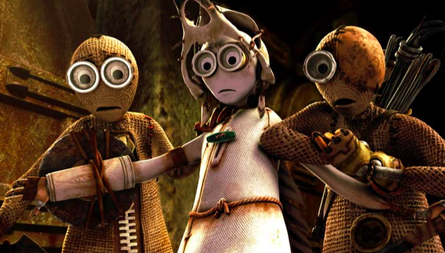 Numbers game: from left, 7, 9 and 5
Director Shane Acker's zippered fugitive 9 (voiced by Wood) first blinked bewilderedly at our blighted planet in Acker's Oscar-nominated 2004 short film. Thanks to the grace and flair of those 11 minutes, the knitted doll with the carved wooden hands is back in a 79-minute feature, scripted by Pamela Pettler (Monster House), that is anything but kid friendly.
In Acker's future netherworld, humans have been obliterated by junkyard monster machines. 9 and his tiny, handcrafted rogue rag-toy crew (voiced by Reilly, Connelly, Plummer, Glover, Landau and Tatasciore) are striving to survive in the hellish industrialised wasteland that the humans left behind. To stay the distance, these scrapheap shrimps must pit native cunning against homicidal metal force.
With its crazed brilliance, Acker's demonic cosmos is an anarchic artwork and a thrill ride in one. Which can't help but beg the question: in a formula-dominated movie marketplace where profits are the top, middle and bottom lines, could such audacious craftsmanship be the ultimate act of creative defiance?