COMIC FANTASY; 1hr 42min
STARRING: Ricky Gervais, Téa Leoni, Greg Kinnear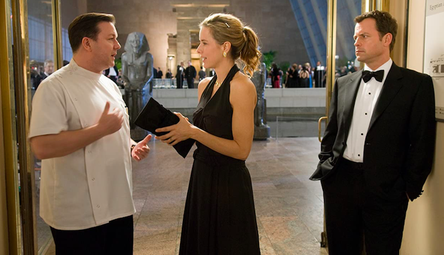 Trust me, I'm a dentist: from left, Gervais, Leoni and Kinnear
It's a safe bet that few men can nail an impassive persona more completely than Extras' Gervais. As Manhattan dentist Bertram Pincus, the English wisecracker is as approachable as a barbed-wire fence. Then a near-death experience on the operating table leaves Bertram able to interact with the ghosts who swarm the New York streets. He sees dead people! And he doesn't like it one bit: if Dr Pincus isn't a people person with live ones, he sure as eternal damnation isn't keen on the deceased.
Leading the phantom drat pack is one-time womaniser Frank Herlihy (Kinnear), determined to stop his vulnerable archaeologist widow, Gwen (Leoni), marrying a smarmy lawyer (Billy Campbell). To banish the pursuing spooks (and because he is captivated with loveable Gwen), Bertram agrees to help Frank out.
Gervais has the lion's share of drollery — as well he should. But this wise, screwy and tender fairy tale from director and co-writer David Koepp goes far further than a straight-faced romp as the misanthropic dentist learns to give-and then, of course, to get.