CRIME DRAMA; 1hr 31min
STARRING: Shea Whigham, Olivia Munn, Zach Avery, Frank Grillo, Bruce Dern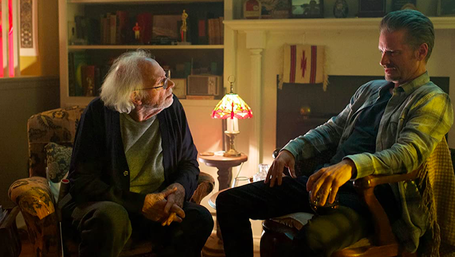 Pater(un)familias: from left, Dern and Whigham
Parker (a careworn Whigham, playing it low key with shades of Sean Penn) is the type of social worker who keeps a pet reptile and sleeps sitting up after topping up when his day on the seamy St Louis beat is done. Hard-bitten yet not completely hardened, Parker cares about his cases in his boozy, weary way. Hence his concern for harried croupier Dahlia (Munn) and her sunny young daughter, Ashley (Taegen Burns).
Like most of the punters on this thorny ride from director and co-writer Michele Civetta, Dahlia does it tough. Her bad-news husband, Mike (Avery), isn't helping any with that, nosediving in classic bullyboy form from a stint in prison to a blood-spattered drug bungle while lying about it to his rightly suspicious wife.
"…As much as I appreciate you comin' by, you don't gotta keep checkin' up on us, okay?" he and his biceps inform Parker when he drops into the family home to keep an eye on Ashley. Not a word of this is true, nor does Parker — no slouch as an issues-plagued disaster magnet himself, courtesy of his estranged dad (an ultra-crusty Dern) — boost Dahlia's domestic ante by losing his job. But with the long arm of the law on Mike's crooked tail, his oily boss (Grillo) growing antsy and Ashley a pawn in the play, Dahlia has no other saviour to turn to.
Happy endings are never on the horizon when heroin is calling the shots: salvation seems an unaffordable luxury for this roll call of lost souls, steepening the pitch of their descent. Parker does pull off a closing, skewed deliverance, mending fences even as they shatter around him. But loss will also be his story's full stop.