COMEDY; 1hr 44min
STARRING: Bill Nighy, Emily Blunt, Rupert Grint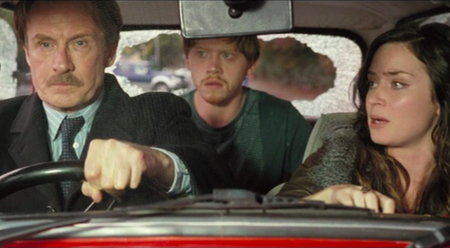 Gunning it: from left, Nighy, Grint and Blunt
From the minute he makes his impeccable appearance, it's easy to fall for English hit man Victor Maynard (Nighy). Victor is attempting to learn French, which he is more preoccupied with than doing people in. He's a cool-cat customer, but then so is light-fingered Rose (Blunt), who Victor can't bring himself to kill, even though he has been hired to do it (by Rupert Everett as a swindled heavy). Instead, Victor finds himself protecting Rose with a little help from an easygoing young man (Grint as Tony) whom they encounter in a car park.
Rose has a peacockish fashion style, is profoundly messy and can be fond of a drink, all of which is an anathema to Victor, who is very much his crime-dowager mother's (Eileen Atkins) 54-year-old boy. And yet there's something about Rose that he can't shake…
Director Jonathan Lynn does a playful number on this remake of Pierre Salvadori's 1993 French comedy Cible Émouvante. Lynn's Wild Target is British and wry and could use a boot up its rear end at times. In a way, though, that's part of its charm, like ambling down a loopy country road.