ROMANTIC COMEDY; 1hr 52min
STARRING: Jake Gyllenhaal, Anne Hathaway, Oliver Platt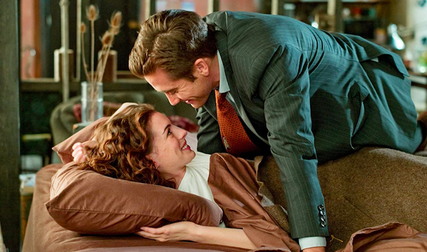 Addicted: Hathaway and Gyllenhaal
Selling prescription meds in the late 1990s is big, funny business in Love & Other Drugs, a glib, good-looking romance which, in theory, is played as much for its deeper notes as for the lighter ones that lead into them. Gyllenhaal and Hathaway bring their starry sheen to the plum parts of ladykilling pharmaceutical salesman Jamie and artist-slash-waitress Maggie, who has stage-one Parkinson's disease and seriously great hair.
Maggie is ravishing, defensive and whip-smart, and Jamie — saved from womanising creep status by Gyllenhaal's wholegrain appeal — is uncharacteristically captivated. As their connection evolves from sexy to sexy and caring, Jamie's Viagra-selling career is on the up and up, which is a blast, and Maggie is battling, which isn't.
The finest romantic comedies are a dapple of light and shade. With this one, director Edward Zwick takes on a potentially risky and interesting premise, only to twirl it into a pretty wrap-up. Like its tastefully choreographed sex scenes, this love never goes either too far or far enough.