DOCUMENTARY; 1hr 27min
DIRECTED BY: Gillian Armstrong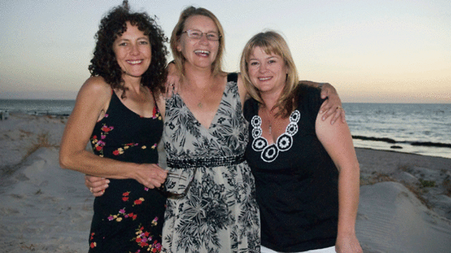 Sweet Adelaide: from left, Diana, Josie and Kerry
In a rolling précis of the first four up-close documentaries in her observational series, film-maker Gillian Armstrong nips through the histories of Adelaide girls Josie, Kerry and Diana. The five-part sequence, of which Love Lust & Lies is the final instalment, kicked off in 1976 with Smokes & Lollies, in which the 14-year-olds are best friends.
In each revisiting, the trio are refreshingly upfront about their highs and lows — no glammed-up New Jersey shtick for them! By the time we're up to speed with their 47-year-old selves in 2009, we're in the sometimes confusing thick of houses bought and sold, relationships enduring or not and a veritable tribe of kids and grandkids.
Unlike the children in English director Michael Apted's Seven Up! serial, these girls are uniformly working class and their experiences tend to blur. In midlife, they are are still frank and unaffected, their trust in Armstrong evident and earned. The director's non-judgmental approach allows her subjects and the shifting domestic sprawl of their lives to speak their own pragmatic and ultimately poignant truths.