COMEDY; 1hr 42min
STARRING: Adam Sandler, Kevin James, Chris Rock, David Spade, Rob Schneider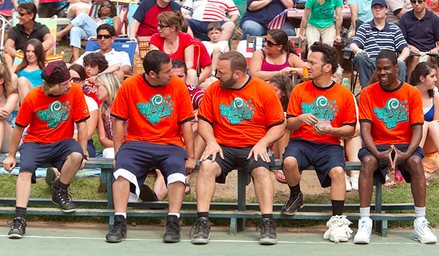 Gang of five: from left, Spade, Sandler, James, Schneider and Rock
A spell of personal reckoning is in store when five school friends reunite 30 years on. Bunking down with wives and kids in a rented lake house, the guys crack wise through a big-hearted, Big Chill–extra lite reunion.
The kids they were are now skirting middle age with all its timeworn issues. Hollywood agent Lenny (Sandler) and his fashion-designer wife (Salma Hayek) have lost touch with the simple things. Eric (James) has a mild case of the wannabes and a compulsively breast-feeding spouse (Maria Bello). Kurt (Rock) is a househusband, 'nuff said; Maya Rudolph is his breadwinning other half. Marcus (Spade) is a ladies' man; ditto. And Rob (Schneider) has married a way older woman (Joyce Van Patten) and, boy, does the gang go to town on that.
The gags are as subtle as open-mike night at the local comedy club, and the relaxed ensemble trots them out with the ease of the old friends they actually are. Go with the goofy flow and have a good time. You'll be damned if you don't.