SUPERNATURAL DRAMA; 1hr 28min
STARRING: Ciarán Hinds, Iben Hjejle, Aidan Quinn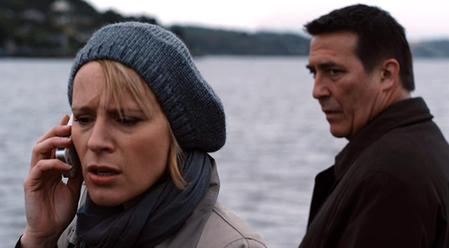 Spooked: Hjejle and Hinds
Ghosts aren't necessarily Casper-friendly. So when Irish woodwork teacher, widower and father of two Michael Farr (Hinds) first encounters a menacing one, the experience leaves him rattled.
Director Conor McPherson moves unhurriedly through The Eclipse's deceptively simple set-up, based on a Billy Roche short story, in which the County Cork town of Cobh is hosting its annual international literary festival. Michael is helping out as a sort of dogsbody, chauffeuring visiting authors and lending a hand here and there. One of the writers (Hjejle as Lena) specialises in the supernatural. She is attractive, sympathetic and would surely relate to Michael's bewildering paranormal experiences. Yet although she and Michael strike up a rapport, Lena is also unhappily involved with a temperamental — and married — bestselling author (Quinn). Meanwhile, Michael's lonely and terrifying visitations continue.
The components are potentially incompatible but as a man entangled in uncertainty and grief, Hinds anchors every distinctive scene. His melancholy presence pulls their disparate parts together, allowing sorrow, horror, a flickering of romance and a quiet closing note of hope to coexist as strangely compelling bedfellows.