DRAMA; 1hr 58min
STARRING: Colin Firth, Geoffrey Rush, Helena Bonham Carter, Guy Pearce, Eve Best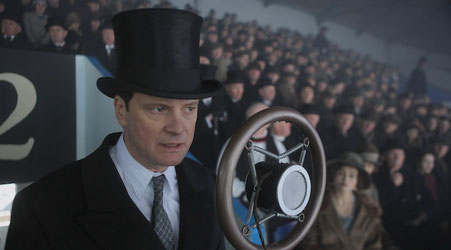 For Albert ("Bertie"), Duke of York (Colin Firth), chronic stuttering is a mortifying curse. Bertie alternates impotent anger with defeatist despair, but his devoted wife, Elizabeth (Bonham Carter), isn't about to give up on him. Enter Lionel Logue (Rush), an Australian speech therapist with ways all his own.
Hired by Elizabeth with last-ditch enterprise, Lionel is a lifesaver with a healthy sense of self and a keen understanding of humanity. His shabby-chic consulting room seems a questionable bolthole for royalty, yet as Bertie's therapy progresses, a picture of the lonely, marginalised little boy he was takes shape and his stammer emerges as a virtual mark of Cain. And in 1936, after Bertie's elder brother, Edward (Pearce), abdicates for the sake of American divorcee Wallis Simpson (Best) and the disadvantaged second son is crowned King George VI, Lionel is a lifeline.
If this sound stuffy it's anything but, with fireball Firth's knockout performance tempered by Rush's empathic restraint and a bubbly dose of warmth from Bonham Carter as the future Queen Mum. Directed by Tom Hooper (Red Dust ), David Seidler's screenplay vrooms through a complete emotional compass in a gift from history that's imposing and real.