DRAMA; 1hr 22min
STARRING: John Hurt, Emily Barclay, Lily Bell-Tindley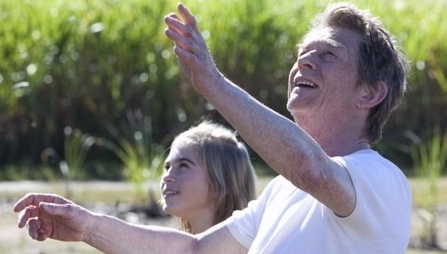 Connected: Bell-Tindley and Hurt
Don't anticipate a gentle family romp with this homegrown Australian drama. The plot synopsis might sound honeyed: an ailing grandad spends transformative time with his three young granddaughters and their struggling single mum in their ramshackle northern NSW home. But this brown study from writer-director Belinda Chayko is contemplative and deeply felt.
Abandoned 10 months earlier by her partner, 27-year-old Rhia (Barclay) is in debt and her daughters are feeling it. The eldest, 12-year-old Lou (an angelic and intuitive Bell-Tindley; sisters Charlie-Rose and Eloise MacLennan play the younger girls) masks her hurt at her father's departure with a cynical face. The arrival of Alzheimer's sufferer grandpa Doyle (Hurt) only confuses things further.
Cinematographer Hugh Miller bathes the ethereal rural landscape in the shifting tones of Australian light. Lou is a visual poem but there's far more to it than surface texture: as Doyle's misguided attachment to Lou opens doors that are safer left closed, the intensifying bond between them becomes an individual and unexpected exploration of love.