DRAMA; 2hr 2min (French with subtitles)
STARRING: Eric Elmosnino, Lucy Gordon, Laetitia Casta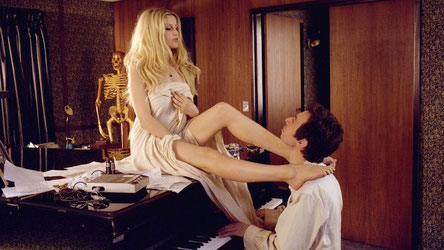 Playboy: Casta and Elmosnino
The homely little son of Russian-Jewish parents in World War II France, Lucien Ginsburg (Kacey Mottet-Klein) sails through the ugly reality of Nazi occupation on his soaring inventiveness. As both a child and an adult, Lucien's teeming inner life is given fantastical expression by surreal alter egos that shadow his steps. Quick-witted and artistic, he is patently destined for the remarkable. 
Playing Paris piano bars and composing idiosyncratic songs as a young man, the professionally renamed Serge Gainsbourg (Elmosnino) charms women right and left. And what women! French sizzler Brigitte Bardot (Casta) and English ingénue Jane Birkin (Gordon), who Gainsbourg would later marry, are both seduced by his dreamy chords.
Film-maker Joann Sfar lingers lovingly on the music, performed with impish diffidence by Elmosnino whose Gainsbourg is a boho Lothario as sleepy as a baking lizard. For Gainsbourg, immoderation is its own art form. He gives cigarettes and booze a marathon run for their money and while they eventually have their ravaging way with him — he died in 1991, aged 62 — his music is his constantly enlivening muse. "Le Marseillaise" as reggae? What a way to go.