DRAMA; 2hr (French with subtitles)
STARRING: Marie Féret, Marc Barbé, David Moreau, Delphine Chuillot, Clovis Fouin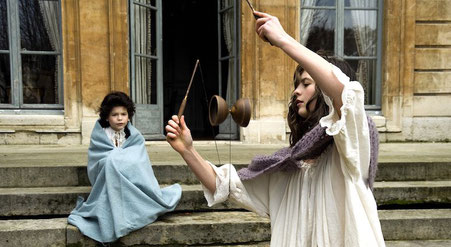 Play time: Moreau and Féret
To be a 14-year-old girl in 18th-century France is to pick your way through a minefield of sexually determined restrictions in writer-director Réne Féret's languorous, elegant and fictional drama — even if you're a musical prodigy and Wolfgang A. Mozart's elder sis. Maria Anna "Nannerl" Mozart (an impassive Féret, daughter of the director) sings like an earthbound angel and is a harpsichord and violin virtuoso — or she would be if her pushy father (Barbé) allowed her to play the violin or compose (both male domains).
As the Mozart family rattles around Europe in a squashy carriage, wowing the nobility with their kids' precocity, Nannerl's pretty mother (Chuillot) dreams of her daughter's marriage while limelight-hogger Wolfgang (Moreau) continues to steal the show. At the Versailles court of Louis XV, Nannerl is bowled over by the shy and transparently mixed-up Dauphin (Fouin), a relationship also destined to go nowhere slowly. 
Nannerl's sad history is as much about its time as her individual role. An artist of transporting power and a potential feminist when the concept was inconceivable, she could never evolve into the woman she deserved to become.