MUSICAL DRAMA; 1hr 54min
STARRING: Kenny Wormald, Julianne Hough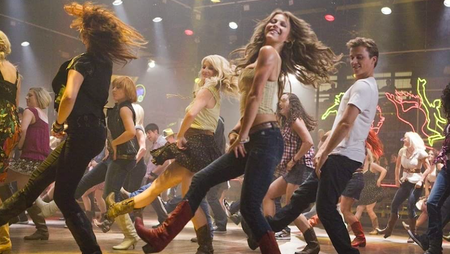 Stepping up: Hough and Wormald
Even if you weren't around when Kevin Bacon was cutting loose in 1984, you can most likely sing along to bits of the boppy Footloose theme song. That spirit is still jiving in director Craig Brewer's remake, with Wormald stepping gamely into Bacon's dancing shoes as Boston boy Ren McCormack.
Arriving in sobersides Bomont, Georgia, to live with his uncle's family after his mother's death, Ren has no clue that a car accident three years earlier, which claimed the lives of five teenagers, has also robbed the town of its va-va-voom. Dancing is outlawed for minors — who do it, anyway, on the QT — and the God-abiding Reverend Shaw Moore (Dennis Quaid), who lost his son in the crash and whose daughter Ariel (Hough) is a handful and a half, won't have it any other way.
It's not all smooth moves and teen romance: the mood downshifts to serious as Ren rattles cages and the reverend questions his judgment. But in its innocent energy, its celebration of possibilities, the zing of the dance routines and its dedication to a happy ending, this sunny number still has an inbuilt spring in its step.