ANIMATION; 1hr 52min
VOICES BY: Owen Wilson, Larry the Cable Guy, Michael Caine, John Turturro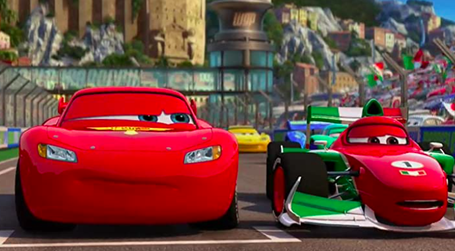 Hot wheels: from left, McQueen and Bernoulli
And they're racing! In yet another upping of Pixar's technical ante, the first minutes of Cars 2 are a 007-style ride, with sleek British intelligence agent Finn McMissile (voiced by Caine) revving through premium land-sea moves. Meanwhile, back home in Radiator Springs, racing car Lightning McQueen (Wilson) and his devoted BFF, toothy tow truck Mater (Larry), are gearing up for the inaugural World Grand Prix.
The mega-stakes races take Team McQueen to Japan, Italy, France and England and pit Lightning against pushy speedster Francesco Bernoulli (Turturro). Mater has his own oddball problems when he stumbles into the international espionage firing line after Finn and his velvet-voiced greenhorn assistant, Holley Shiftwell (Emily Mortimer), mistake the rustbucket's klutzy carry-on for the cunning disguise of a fellow spy. 
The subsequent intrigue is as tricky in auto world as it can be in ours, and little kids are likely to get lost. But the spanking-fresh action has it all going on. Popping with colour and packed with spectacular detail, every big-ticket concept is another visual coup.