FANTASY; 1hr 38min (Cantonese and Mandarin with subtitles)
STARRING: Jet Li, Eva Shengyi Huang, Raymond Lam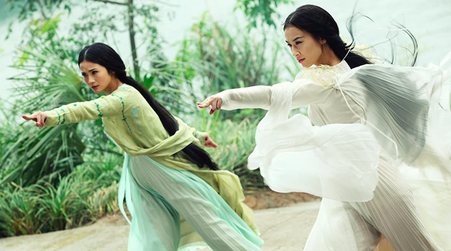 Pointer sisters: from left, Choi and Huang
The fairy-tale domain of director Tony Ching Siu-tung's The Sorcerer and the White Snake is a paradox of darkness and light, as vividly exquisite as the most finely drawn works of art. White Snake (Huang) is a thousand-year-old demon whose heavenly human form betrays no trace of her scaly origins and who, while slithering aimlessly in the idyllic Chinese countryside with her slippery sister, Green Snake (Charlene Choi), is bowled over by the sight of kindly — yet hunky! — herbalist Xu Xian (Lam).
In this land of Make-Believe, nattering animals and bat-like fiends co-exist with humans, monks have shamanistic, martial-arts-driven powers, and a spell-casting, humanised reptile becomes a devoted, domestic wife to a clueless brewer of medicinal herbs. Everything is peachy in the Xu household until sorcerer and monster-slaying monk Fai Hai (Li) sticks his censorious nose in and decrees the union taboo, with cataclysmic results.
Cursed love at first sight is a vintage romantic daydream. In this star-crossed beauty, passion is precious and brutal, tragedy is destiny and the art direction and effects are wizardry in action.