COMIC DRAMA; 1hr 22min (French with subtitles)
STARRING: Gérard Depardieu, Gisèle Casadesus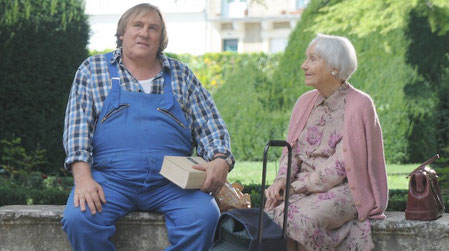 Substance and style: Depardieu and Casadesus
Germain Chazes (Depardieu), a sensitive soul buried in abundant flesh, had a wrong-footed start in life. His mother (Claire Maurier) is a vicious shrew, his primary-school teacher mocked him and as an adult that mockery plagues him still. He's a good-hearted man, nonetheless, content with his flourishing vegetable garden, his carved animals and his sustaining relationship with maternal bus driver Annette (Sophie Guillemin). Expecting little, he accepts what little he has.
Then, one afternoon in the park, Germain meets 95-year-old Margueritte (Casadesus), "85 pounds, dressed like a posy," who awakens in the semi-literate labourer a deepening love of words by reading books to him aloud. But Margueritte is going blind and soon it will be Germain who must learn to read to her. 
Director Jean Becker's gentle and moving film of Marie-Sabine Roger's 2009 novel La Tête en Friche finds its voice with a gruffly tender performance from Depardieu and a beguiling leading lady in steel-magnolia Casadesus, whose delicate presence and fundamental strength make a surprising and joyous package.