DRAMA; 1hr 47min
STARRING: Hilary Swank, Sam Rockwell, Minnie Driver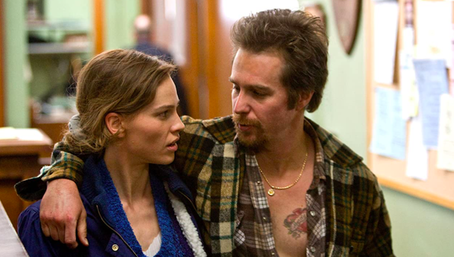 Against the odds: Swank and Rockwell
From a naughty little boy in rural Massachusetts, Kenny Waters (Rockwell) grew into the rascally sort who could either snap in a second or charm the leaves off the trees. Which is no help to him when in 1983, he is convicted of first-degree murder and jailed for life. His devoted sister, Betty Anne (Swank), is heartbroken but having grown up with very little, Betty Anne is the sort of woman for whom the seemingly impossible is merely a setback.
And so it is that with the support of her rock-steady best friend (Driver), she puts herself through high school, college and law school, losing her husband and the primary custody of her two sons in an 18-year quest to free her disheartened brother.
The clincher? Betty Anne is not only a terrific, wrenching role for the sympathetic Swank, she is also a real person and her David–Goliath story is a marvel. Director Tony Goldwyn is a deferential observer of it, dialling down on dramatic flourishes and allowing the performances — class acts, every one of them — to shine.