DOCUMENTARY; 1hr 24min
DIRECTED BY: Richard Press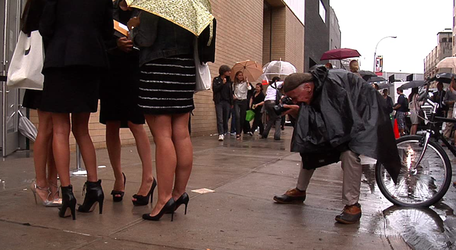 For decades, The New York Times "Style" section photographer Bill Cunningham has been roving the streets of New York on his trusty Schwinn bicycle, snapping away at whatever sartorial numbers take his lively, enquiring fancy. Now in his 80s with two columns to cover ("On the Street" for emerging trends and "Evening Hours" for glitterati events), Bill is as fashion-obsessed and as on-the-go as ever.
Yet beloved as he is by all echelons of New York society — from such upscale identities as Anna Wintour, Annette de la Renta and Tom Wolfe to a fabulous array of downtown, peacockish one-offs — Bill is private and elusive. It took film-maker Richard Press eight years to persuade him to participate in his delicately observant documentary, and two years to shoot and edit it. 
Press's quiet persistence has paid off, capturing an immediately endearing, cheerily tireless man whose modest ways and innate humility are the flip side of his consuming, extravagant working world. If William J. Cunningham's uniquely intuitive sensibility didn't exist, New York would surely have had to invent it.