DRAMA; 2hr 9min
STARRING: Jim Broadbent, Lesley Manville, Ruth Sheen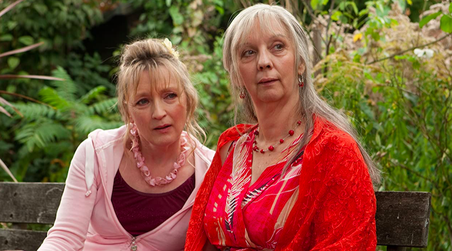 A friend in need: from left, Manville and Sheen
Counsellor Gerri (Sheen) and her geologist husband, Tom (Broadbent), have built a solid, tranquil marriage. They have one grown son (Oliver Maltman) and are natural nurturers, whether in their blooming vegie allotment or with their lame-duck friends.
Mary (Manville, in a sensationally excruciating performance), a middle-aged secretary in the London medical practice where Gerri works, masks her desperation with painful vivaciousness. Mary also drinks more than is good for anyone and can barely tolerate being alone, which ironically makes her hard work to be around. She is blessed with the understanding of the tolerant Gerri and Tom, but their friendship can't redeem her life.
English film-maker Mike Leigh (Happy-Go-Lucky ) follows his lived-in characters over four seasons. Leigh is always a marvel with actors and his wordy, aware screenplay abounds in revelatory opportunities. By the time winter rolls around, you're completely absorbed by people you feel you've known for years, so attuned is this masterful cast to every telling and touching detail.