MUSICAL DRAMA; 1hr 35min
STARRING: Dane DeHaan, James Hetfield, Lars Ulrich, Kirk Hammett, Robert Trujillo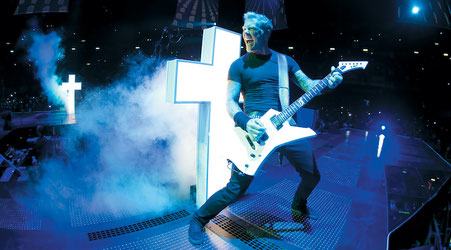 I'm with the band: Hetfield
Riffing on the done-and-done concert film concept, The Place Beyond the Pines ' Dane DeHaan plays Metallica roadie Trip, who is sent on a nocturnal errand while the band (Hetfield, Ulrich, Hammett and Trujillo), true to form, blast the bejesus out of a packed stadium.
While Predators director Nimród Antal's numerous 3-D cameras are all over the joint, capturing multiple angles of that heavy-metal phenom (actually a distillation of gigs from their 2012 tour), Trip's wiggy escapades slam into gear with an inappropriate horse, a fiery police car, an angry mob–riot squad face-off and apocalyptic streetscapes galore, all synced to the full bore thumpery of M-word monster hits.
Even if you can't tell your "Creeping Death" from your "Enter Sandman", which presumably you absolutely can if you've checked yourself into this movie, the show is the fiery bells and whistles business with extravaganza staging and the adrenaline of a charging freight train. As for poor, frazzled Trip, his night was never going to be an easy one. That's just the way rock rolls.