COMEDY; 1hr 25min
STARRING: Will Ferrell, Zach Galifianakis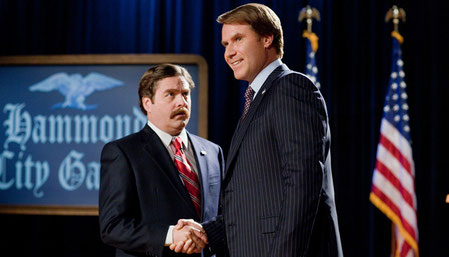 Shaky business: from left, Galifianakis and Ferrell
Political one-upmanship, famously dirty and tricky to predict, unwinds as mockery and farce in this Jay Roach–directed giggle, with North Carolina small-timers Cam Brady (Ferrell) and Marty Huggins (Galifianakis) going fang-to-claw for a seat in the US Congress. The incumbent, Democrat Cam, is a shark with a blasé wife (Katherine LaNasa) and a too-young mistress (Kate Lang Johnson) whom everyone knows about, thanks to an indiscreet answerphone message. 
Republican Marty is a butterball in old-ladyish knits, with a molasses accent and the political smarts of a pug dog, two of which he owns. Marty's campaign is funded by the venal Motch brothers (John Lithgow and Dan Aykroyd), whose plan is to shut down their China sweat shop and open three locally, thereby saving on postage.
On with the show! It's shamelessly OTT, which is par for the Ferrell course, yet it does have a salient point to make about the lengths to which conniving pollies and money-grubbing business will go to win. We knew that already, needless to note, but Vote One to the campaigners for making it a laughing matter.