ANIMATION; 1hr 33min
VOICES BY: Kelly Macdonald, Billy Connolly, Emma Thompson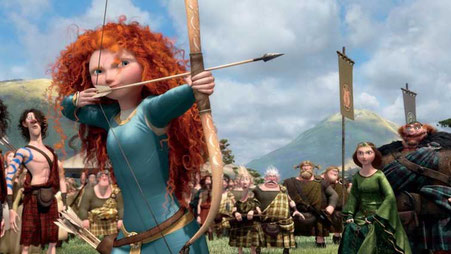 Straight arrow: Princess Merida
Merida (voiced by Macdonald) is a rebellious Scottish princess with a mile-wide mischievous streak and a bonny mop of flame-red curls she would rather see flying free in the breeze as she gallops on her trusty horse through life's reckless adventures. Her jolly, peg-legged father, King Fergus (Connolly), tends to second that spirited motion but her starchy mama, Queen Elinor (Thompson), has other ideas, decreeing that Merida be married to one of three variously unappealing suitors. Bummer!
To win her hand, the homely trio competes in an archery tournament, which Merida, being pigheaded and defiant in daredevil Scottish style, does her darnedest to sabotage. She's hell-bent on changing her fate, but fate in its caprices has other, cursed ideas.
The voice cast is hopping and the animation is luscious and pristine, courtesy of Pixar's deft rendering and sharp eye for a tall tale. Co-directed by Mark Andrews and Brenda Chapman, Brave is magical, comical and awesome all round, with underlying themes of loyalty, love and courage that are touchingly grounded in truth.