DOCUMENTARY; 2hr 39min
DIRECTED BY: Joshua Oppenheimer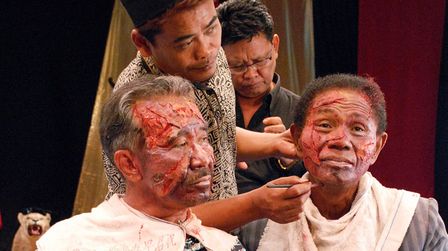 Dressed to kill: from left, Adi Zulkadry and Congo
Less than a year after Indonesia's government was overthrown by a military dictatorship in 1965, more than a million alleged communists had been murdered by paramilitaries and gangsters. In a left-field brainwave, director Joshua Oppenheimer and his team asked killers in charge to re-create slaughter scenes in whatever styles — musical, western, gangster — they wanted.
A leading light among them is Anwar Congo, a former kingpin in Indonesia's warmongering Pancasila Youth, now a mild-mannered and notably dapper, elderly gent ("For massacres, I usually wore jeans," he observes). Congo demonstrates how he butchered hundreds of people with the same unruffled calm with which he might, perhaps, gut a fish — although watching later, he's critical of his benign (and inappropriately dressed) performance. Peacockish and relaxed, the unashamed cronies bask in the spotlight.
Look closer, though, as this team scrupulously does, and there are tell-tale fractures. Congo suffers from nightmares, and even though he bizarrely re-creates his loathsome acts with the aplomb of a home-cured ham, the sting of remorse finally begins to bite. Twisted, unnerving and in a loopy league of its own, Killing is what happens when evil comes out to play.