DOCUMENTARY; 1hr 48min
DIRECTED BY: Stephen Walker & Sally George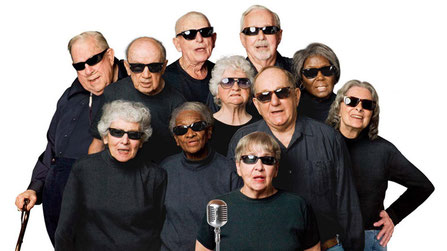 Rock of ages: Young@Heart choristers (in 2006)
"They think that this is a crazy idea…" Young@Heart Chorus director Bob Cilman is explaining the reaction of his rocking seniors to performing Sonic Youth's "Schizophrenia", but he could be referring to the divinely inspired concept of the chorus as a whole. Picture a stage of men and women in their seventies, eighties and nineties belting through the chorus of the Clash's "Should I Stay or Should I Go" and you're getting the general idea.
The 25-year-old Massachusetts-based group is a phenomenal American and European success, its every punk, rock and R&B note a cry of defiance against old age. But as co-director (with Sally George), interviewer and narrator Stephen Walker discovers in the seven-week rehearsal period he spends with the gang in 2006, mortality is an unavoidable subtext.
Walker and Co have come through with the most beautiful balance: Young@Heart is a crack-up, a revelation and intensely moving. What really stokes its fire, though, is an anarchic rush of pure joy. Old? No question. But tired? No way!