SCI-FI ACTION; 1hr 53min
STARRING: Dylan O'Brien, Kaya Scodelario, Thomas Brodie-Sangster, Will Poulter, Ki Hong Lee, Aml Ameen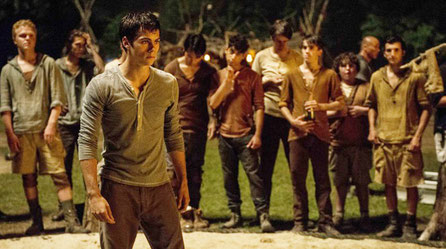 We gotta get out of this place: O'Brien
Young-adult novels are big on futuristic blues, and multiplexes gobble them up: The Hunger Games and Divergent trilogies kicked off a doomsday play now followed by book one of James Dashner's bleak threesome, The Maze Runner, directed by feature first-timer Wes Ball.
Like all the other guys (and one gal — a feisty Scodolario arrives later) trapped with him in a walled-in, woodsy clearing, amnesiac Thomas (Teen Wolf 's O'Brien) is lowered into it in a metal box with no idea of why. He learns from stalwart tribe leader Alby (Ameen) that the ragged group has arrived one by one each month over three years, delivered by God-knows-who. No one can remember what lies outside the sky-scraping concrete walls whose dimensions shift every night, and survival within is a soil-tilling team effort that looks a shade off Lord of the Flies feral.
Sussing out a danger zone uglified by nocturnal, maze-scuttling spiderish beasties known as Grievers, the pumped cast goes full-tilt at frights that escalate as the maze comes unhinged. Yet more than the usual tension and twists, and the doubtless conniving intent of whoever is behind them, it's the not knowing that really keeps these circuits humming.