THRILLER; 1hr 52min
STARRING: Ryan Reynolds, Scott Speedman, Rosario Dawson, Mireille Enos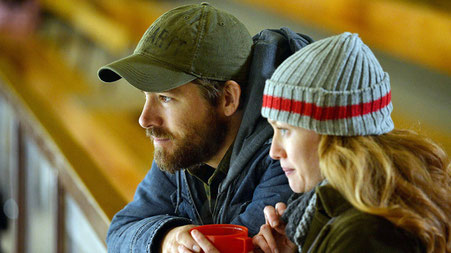 Torn apart: Reynolds and Enos
Cutting between the ensemble-cast members and back and forth in time, film-maker Atom Egoyan reconstructs a calamity. Eight years have passed since Niagara landscaper Matthew (Reynolds) and his wife, hotel-room cleaner Tina (Enos), lost their nine-year-old daughter, Cassandra (Peyton Kennedy as young Cass; Alexia Fast as a teenager), to abduction.
The man responsible (Kevin Durand), who kidnapped Cass from Matthew's pick-up truck and is still hiding and taunting in plain sight, is identified in the opening shot. Also apparent is the immediate harm done when investigating detectives (Speedman and Dawson) suspect Matthew. Years later, Matthew and Tina's marriage is fractured — she can't forgive him for leaving Cass alone in the truck and he can't forgive himself, prowling icy roads in a never-ending search.
Set in a snowbound landscape that mirrors the chill within, The Captive is a puzzle whose menace casts a jet-black shadow, especially over Matthew and Tina. As he demonstrated in 2010's baptism of fire Buried, Reynolds is an actor of darkly charged reserves. He draws heavily on every one of them here.