MUSICAL COMEDY; 1hr 40min
STARRING: Peter Mullan, Jane Horrocks, George MacKay, Kevin Guthrie, Antonia Thomas, Freya Mavor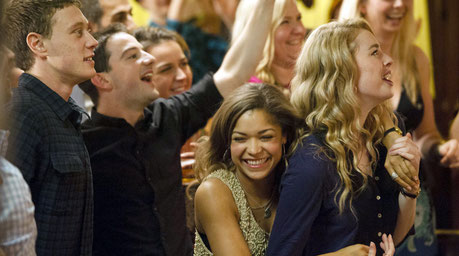 In tune: from left, MacKay, Guthrie, Thomas and Mavor
"I'm on my way from misery to happiness today!" Meet Davy and Ally (MacKay and Guthrie), strapping Scottish soldiers bursting into song, ta-da, at the happy prospect of returning to buttery-warm and welcoming Leith after tough times in Afghanistan.
The lads set to work in a call centre. Their real work, though, is wooing their girls: Davy's sister Liz (Mavor) and her bestie, Yvonne (Thomas). ("Please let me inside your door!") In other, evolving relationships, Davy and Liz's devoted parents, Rab and Jean (Mullan and Horrocks), have a life-changer to contend with. ("I hate my love for you!")
But only for a wee while. Sunshine on Leith, which originated as a 2007 stage musical and owes its rosy tone to the upbeat music of the Proclaimers ("But I would walk five hundred miles … ") is trans-generational marshmallow piled high on a jumbo platter by a lively cast. OK, there's the odd speck or two of grit in director Dexter Fletcher's sugary mix. But even dour old Scotland isn't overcast all the time.