THRILLER; 1hr 37min (Danish with subtitles)
STARRING: Nikolaj Lie Kaas, Fares Fares, Sonja Richter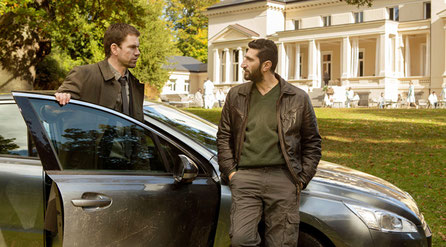 Under pressure: from left, Kaas and Fares
Ostracised after a botched job that leaves one of his partners dead and the other paralysed, pugnacious Danish homicide detective Carl Mørck (Kaas) is relegated to no-count Department Q, repository of cold cases in this chiller treatment of novelist Jussi Adler-Olsen's 2011 bestseller. The permanently frown-lined Carl is displeased — about his demotion, the tremor he can't shake and his failed marriage. He's not thrilled with his friendly new assistant, Assad (Fares), either.
Even so, the case of missing politician Merete Lynggaard (Richter) jumps out at Carl right away: presumed a suicide five years previously after a supposed leap from a ferry on which she was travelling with her brain-damaged brother (Mikkel Boe Følsgaard), Merete's case is all but closed. Except, that is, for Carl.
Entwined by director Mikkel Nørgaard with disturbing footage of Merete, Carl's unauthorised investigation seems impossible, even for someone as pig-headed as he is. Between that and the torment Merete is enduring, the palette is hellish and creepily intriguing in a terse, chilly and monochromatic Scandinavian way. The resolution is too much of a pat anticlimax. But the ride there is rife with seat-clutching jolts.