DRAMA; 1hr 51min
STARRING: Ralph Fiennes, Felicity Jones, Kristin Scott Thomas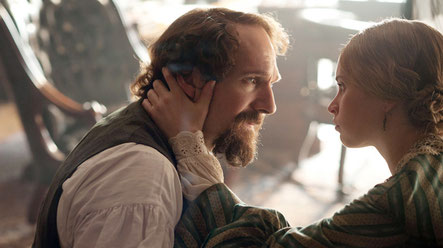 O mistress mine: Fiennes and Jones
In 1885, Nelly Wharton Robinson (Jones) is married to headmaster George (Tom Burke) and staging a production of the Charles Dickens (Fiennes) and Wilkie Collins (Tom Hollander) play No Thoroughfare at the local school. She's an inward-looking woman, present yet preoccupied, and she has much to be preoccupied with.
Cut to 1857 Manchester, where 18-year-old Ellen, as Nelly was then known, is thrilled to be rehearsing a production of Collins's The Frozen Deep with her mother (Scott Thomas) and two sisters (Amanda Hale and Perdita Weeks). The show is directed by 45-year-old Dickens, who, in an echo of Fiennes's cinematic double act, also stars. Dickens is a chipper whirlwind and the life of every party to all but his remote wife (Joanna Scanlon). Ellen is guarded at first. But his fixation with her is a forcefield, and she, an actress of negligible talent in an era circumscribed entirely by men, is swallowed whole.
As a director, Fiennes has a wordless, painterly way with significant moments that is ideally attuned to Jones's expressive intensity. The Invisible Woman is about love as sacrifice, and how what is repressed can swell and afflict.