FAMILY; 1hr 35min
STARRING: Ben Whishaw (voice), Hugh Bonneville, Sally Hawkins, Nicole Kidman, Julie Walters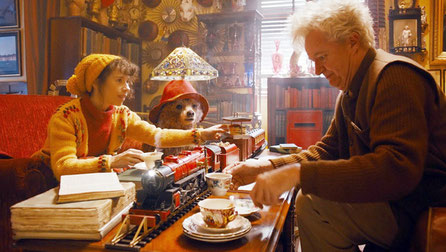 Tea for three: Hawkins, Paddington and Jim Broadbent
Who can resist a madcap world in which an English-speaking bear from Darkest Peru steals the hearts of a British family crying out for a lift? As readers of Michael Bond's beloved books have realised since 1958, Paddington Bear is a tubby, rubbery, disaster-prone and endlessly curious furball with eyes you could get lost in and a serious marmalade craving.
Thanks to director Paul King's contemporised take, the bear (decorously voiced by Whishaw) is the last word in digital adorability and a shot of sunshine for cautious risk analyst Mr Brown (Bonneville), his softie illustrator wife (Hawkins), their straitlaced kids (Samuel Joslin and Madeleine Harris) and their wacky housekeeper (Walters). They don't know it at first but the Browns need the hairy refugee almost more than he, alone in London after stowing away at sea, urgently needs them.
Needless to say, the home front isn't all plain sailing, what with villainous taxidermist Millicent (Kidman) lurking in the wings and Mr Brown's mile-wide hesitancy streak. Then again, some obstacles are designed to be overcome with a tongue-in-cheek, hand-on-heart resolve that's the absolute best of British.