DRAMA; 1hr 29min
STARRING: Robin Wright, Demián Bichir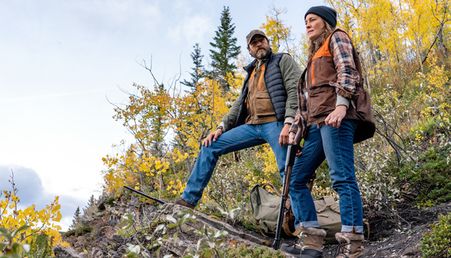 Slippery slope: Wright and Bichir
What demons would drive a city woman to self-isolate in a dilapidated cabin halfway the hell to nowhere? And not just to self-isolate with only the grandeur of the Rocky Mountains for company, but to do it without a car or a phone? It's evident from a brief opening exchange with her therapist that Edee (Wright) is suffering. Her exile is a quest to heal — a brave aim given shape by the haunting flashbacks she experiences soon after she arrives in Wyoming. Running from grief is one thing. Escaping it is another. And then it starts to snow.
Written by Jesse Chatham and Erin Dignam, Land is Wright's first feature film as director. She certainly doesn't spare herself: Edee is onscreen in every frame. Hounded by weather, wild animals and her own feral misery, her decline is excruciating, stripping her bare in a test of will that would lay waste to anybody's spirit. It's as if she needs to scrape the boundaries of death to rebuild, which she slowly sets out to do when, after helping to save her life, a local good samaritan (Bichir as Miguel) offers to teach her to hunt. Edee consents, but only if he brings her no news of the outside world. "I'm here in this place," she tells him, stating the screamingly obvious, "because I don't want to be around people."
Like everything she undertakes, Edee's shooting and gutting of a deer is a considered process and not for the squeamish. But while her birth as a pioneer is harrowing, there's beauty to be had, as well — in a landscape rapturously captured by cinematographer Bobby Bukowski, in Edee and Miguel's understated bond and in Wright's all out commitment to Edee's baptism of fire.