DRAMA; 1hr 54min (French with subtitles)
STARRING: Mathieu Amalric, Emmanuelle Seigner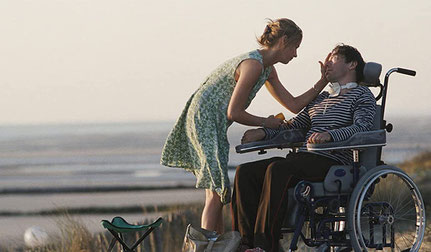 In the blink of an eye: Anne Consigny and Amalric
Paralysed in 1995 by a massive stroke, 43-year-old Jean-Dominique Bauby (Amalric) could not move or speak. (Crueller still, his brain function remained intact.) Only Bauby's left eye functioned, and it is through the prism of that eye that director Julian Schnabel (Before Night Falls) opens his transfixing film of Bauby's astonishing true story.
Before his body imprisoned him, Bauby was the editor-in-chief of Elle magazine. Schnabel's depiction of the stricken man's subsequent interior journey is an intimate mosaic of courage and endurance. It begins with Bauby's realisation that his imagination and memory are critical survival tools, then progresses with painful slowness through a regimen of therapy, in which Bauby blinks in response to letters. The culmination is the small miracle of the book upon which this movie is based, published two days before Bauby's death in 1997.
Faced with extreme hardship, a person is stripped to their essence. Bauby's salvation was an extraordinary core of creativity which the assured achiever he used to be might never otherwise have tapped into.