HORROR; 1hr 52min
STARRING: Kodi Smit-McPhee, Chloë Grace Moretz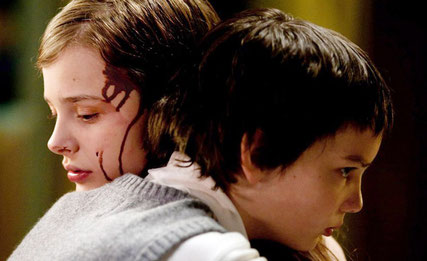 Bonded: Moretz and Smit-McPhee
A horribly burned man is admitted to hospital in Los Alamos, New Mexico. Rewind two weeks and a lonely, edgy boy (Smit-McPhee as Owen) is spying on the neighbours in his bleak apartment complex. He sees a young girl (Moretz as Abby) moving in one night with a middle-aged man (Richard Jenkins). Is he her father? And why is she barefoot in the cold, cold snow?
The logic behind these wintry threads makes summarily bizarre sense when you learn that 12-year-old Abby is a vampire. For all her pretty ways, she's the demon seed of primal history. Yet the child in Abby is drawn to Owen, in whom she recognises a twin displacement, and the two form an indelible bond.
Matching Jack's Smit-McPhee and Kick-Ass's Moretz are young actors of preternatural wisdom. Writer-director Matt Reeves (Cloverfield) makes eerie use of this in his retelling of the 2008 Swedish chiller Let the Right One In. Shrouded in greyish hues, the painful cold and suburban drabness are a harsh canvas for the tragic and grotesque. But this is also a love story: innocent, poignant and profound.