DRAMA; 1hr 38min
STARRING: Cate Blanchett, Sally Hawkins, Alec Baldwin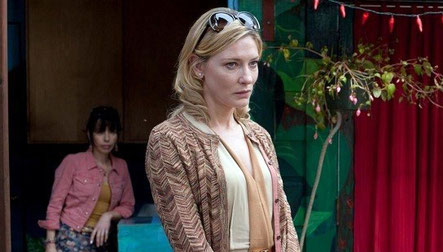 Fresh into San Francisco and fresh out of luck, Jasmine (Blanchett), real name Jeanette, climbs out of taxi with her Vuitton luggage to find herself totally lost. "Where am I, exactly?" she asks.
That's the question burning a chasm through Jasmine's life. Once the high-flyer wife of a shonky Manhattan tycoon (Baldwin as Hal), now the meds-popping, nervously jangled relic of his financial meltdown, her only recourse, à la Blanche DuBois, is her sister Ginger (Hawkins). A sunny, divorced battler with two young boys who works in a grocery store, Ginger is a coper. But she's out of her depth with Jasmine's explosive frailty.
When director Woody Allen is in top form, as he is here, no one can touch his bittersweet acuity. And Blanchett is phenomenal (when is she not?), baring the flayed soul of a broken and frightened woman whose humanness lies in her chronic inability to come to grips with herself. The supporting cast is terrific, too: Happy-Go-Lucky's Hawkins, Baldwin, Bobby Cannavale as Ginger's well-meaning new man, Andrew Dice Clay as her resentful ex-husband and Peter Sarsgaard as a gentlemanly diplomat who could be a drowning woman's rope. If only.