COMIC DRAMA; 1hr 40min
STARRING: Ralph Fiennes, Tony Revolori, Adrian Brody, Willem Dafoe, Jeff Goldblum, Jude Law, Saorise Ronan, Tilda Swinton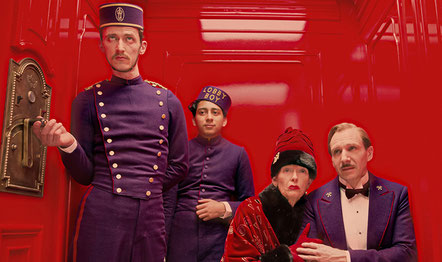 From left, Paul Schlase, Revolori, Swinton and Fiennes
As a filmmaker, Wes Anderson (Moonrise Kingdom) is a castle-builder, sometimes infuriating or confounding, yet always inventive and never formulaic. Inspired by author Stefan Zweig but absolutely Anderson's own, The Grand Budapest Hotel is as chipper, courtly and precise as a cuckoo clock. Set in a fictional, war-beset European country, its man of the hour is hotel concierge Monsieur Gustave (Fiennes), an impeccable, rapid-fire perfectionist who graces its gilded halls in the 1930s.
Although adored by his well-heeled, geriatric female guests (and lovers), M. Gustave isn't destined for a peaceful life: after being wrongly jailed for the murder of the ancient Madame D. (Swinton, vastly aged), he and his newfound prison gang escape with spectacular finesse using tools smuggled in cream cakes by Gustave's resourceful hotel lobby boy, Zero (Revolori).
The breakout is the opening salvo in a crazy-busy, on-the-lam barrage, and these are the barest bones of a story that zings with straight-faced panache through art theft, young love, a hotly disputed will and the machinations of a top-secret concierge society. With a cast as fabulous as the impish fantasy they're playing out, from the whimsically sublime to the merrily insane, there's nothing not to love.