COMIC DRAMA; 1hr 59min
STARRING: Michael Keaton, Edward Norton, Naomi Watts, Emma Stone, Zach Galifianakis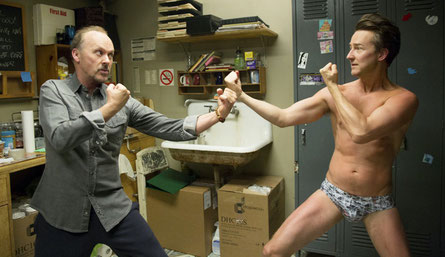 Sparring partners: Keaton (left) and Norton
Showbiz is never more dog-eat-dog than when an underdog is running the show. In director Alejandro G. Iñárritu's pulse-quickening smasher Birdman or (The Unexpected Virtue of Ignorance), that wormy plum goes to Riggan Thomson (Keaton; Batman that was) whose glory days as superhero Birdman are a distant fadeout. Riggan has staked his shirt on a comeback Broadway production of Raymond Carver's short story "What Do We Talk About When We Talk About Love," which he adapted and directed, and in which he stars with three other fractured souls (Norton, Watts and Andrea Riseborough).
As the play lurches into production, cinematographer Emmanuel Lubezki's camera prowls the dingy backstage warren of the hallowed St James Theatre to a thrumming drum beat that's the barometer of Riggan's frantic angst: about what he has become, the fate of his play, his disintegrating sanity and the ravenous ego of his bête noir, Mike Shiner (Norton).
Keaton and Norton are a fabulous conflagration, but everyone else brings the pain, as well: Stone as Riggan's angry daughter, Galifianakis as his frazzled wrangler/attorney, Watts and Riseborough as insecure hopefuls and Lindsay Duncan as a vicious critic are orbiting bodies around Keaton's blazing centre. Naked, wretched, subversive and incandescent, he hotly outshines them all.