COMIC DRAMA; 3hr 7min (70mm); 2hr 48min (digital)
STARRING: Samuel L. Jackson, Kurt Russell, Jennifer Jason Leigh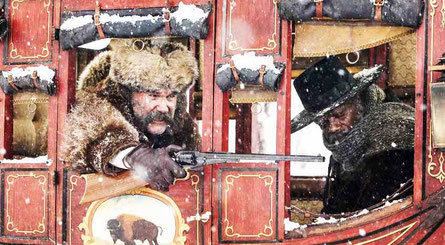 Dirty rotten scoundrels: Russell (left) and Jackson
Crazy-gory and gleefully baroque, shot — complete with overture and intermission — in time-honoured 70mm and operatically scored by Ennio Morricone, writer-director Quentin Tarantino's showstopper western is as juicy as a slab of rare prime rib.
En-route to the town of Red Rock in snow-caked, post–Civil War Wyoming, eight incalculably hardened individuals are forced to take shelter in the blizzard-enveloped log cabin of Minnie's Haberdashery. Riding along are bounty hunters Major Marquis Warren (Jackson), at whom the N-word flies thick and fast throughout, and John Ruth (Russell). Handcuffed to Ruth is his murderous captive, Daisy Domergue (Jason Leigh). Incoming  sheriff Chris Mannix (Walter Goggins), natty hangman-for-hire Oswaldo Mobray (Tim Roth), cowboy Joe Gage (Michael Madsen), Mexican factotum Bob (Demian Bichir) and aged Confederate general Sandy Smithers (Bruce Dern) complete the pack.
Homey Minnie's is as good a place as any for the eight to act out and up, which they all duly do, and how. The atmosphere sizzles with fruity intrigue, its mounting friction pushed to outer limits by a pumped ensemble raising hell on that hazardous line between high drama and haute camp. Giddy-up!