COMIC DRAMA; 3hr 7min (70mm); 2hr 48min (digital)
STARRING: Samuel L. Jackson, Kurt Russell, Jennifer Jason Leigh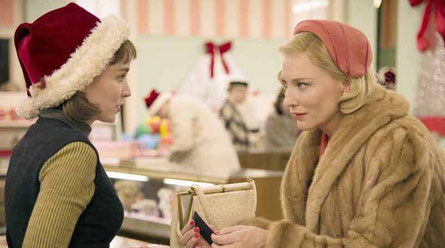 Oh Carol: Mara (left) and Blanchett
In 1952, when Patricia Highsmith wrote The Price of Salt, the pioneering novel on which Phyllis Nagy's outstanding screenplay of Carol is based, middle-class American lives were supposed to run on oiled and ineradicable lines. In the married-with-children package deal of suburban adulthood, gay was a merry state of mind and the word lesbian was unuttered.
New York wife and mother Carol Aird (Blanchett, as polished as a cultured pearl) never entirely fitted that pulverising sexual mould and is plunging into the icebound depths of a divorce from her rich, domineering husband, Harge (Chandler). But the plush restraints of convention are completely blown apart by Carol's immediate attraction to much younger department-store sales assistant, Therese Belivet (a gamine Mara), who also yearns quietly for more.
As director Todd Haynes (Far from Heaven) shapes their gravitational pull into an elliptical tone poem, the women's initial, pulse-racing spark deepens to intense heat. Carol is spell-casting, immersing audiences in its private gloaming of desire. But behind the smokescreen of cigarettes and the glaze of martinis, safety nets are unravelling, and the lure of risk and surrender spares no thought for the toll it will take.